Welcome to Evolution Bulldogges
I am Brian Miller, an Olde English Bulldogge Breeder.  This is my story.
At a very early age, prior to owning my kennels, or ever having a single Olde English Bulldogge puppy for sale, I was introduced to an idea of bulldogs that EXCITED me – the giant bulldog in the cartoons with a huge head, massive chest, low, wide, thick, and muscular body! At fifteen years old I had met Mr. Jack, an over-sized English Bulldog stud. I spent hours playing and wrestling around with him.
He was a great bulldog, and while he was very similar to my giant cartoon bulldog dream, he was not quite the icon of health or vigor I had hoped, but I was completely hooked. At this young age of fifteen years I made the very clear decision that I would become the greatest bulldog breeder in the world.  My parents however, had other ideas, so my dream as a bulldog breeder was put on hold. Over the next decade and a half I spent countless hours and days researching genetics, anatomy, physiology, biology and microscopy, learning how to breed healthy versions of my beloved cartoon image bulldog.
In my studies I realized the English Bulldog is structurally limited in regards to health. I began looking at other bully breeds in an attempt to find a healthy bulldog, and after several years I stumbled upon The Olde English Bulldogge. I was sold on the sales pitch that the Olde English Bulldogge was healthy and capable.  I failed to closely read the health guarantees of the dogs I proceeded to purchase, spending many thousands of dollars on breeding stock full of health issues. It was obvious – the Olde English Bulldogge breed also suffered from several of the same health issues which plague the English Bulldog.  It was an expensive lesson, but one well learned. I have searched tirelessly for Olde Bulldogges that would put me within reach of my ultimate goal of a bigger, better bulldog. I quickly realized to get what I wanted, I was going to have to create it myself.
As I stumbled upon a few exceptional dogs that would lay the foundation for a solid breeding program, and began linebreeding my productions, Evolution Bulldogges was born!
Creating Muscular Healthy Olde English Bulldogges
with Giant Heads, Massive Bodies, Rippling Muscles, Who are Trustworthy, Capable, Vigorous, Well Built, and Beastly is my specialty!
Building better Bulldogges is my lifestyle.
 My breeding program permeates my entire life, and gives me purpose.
These web pages archive my vocation.
What Does Evolution Bulldogges Do To Build Better Bulldogges?
 Since 2005, I have followed a clear vision which demands solid
HEALTH
and stable TEMPERAMENTS as core components of my Olde English Bulldogge kennel. My kennel only breeds the highest quality dogs in my breeder program, to produce the very highest quality 
Olde English Bulldogge puppies for sale
. All bulldogs must pass hip x-rays prior to breeding. I also evaluate each bulldogge's movement, breathing, and athletic ability. Only the most impressive capable Olde English Bulldogges are used at Evolution kennels. While I create extreme bulldogge looks, I know that going too extreme will hinder the function of the animal. I strive to consistently create massive muscular bulldogs with sound structure, proper skeletal alignment, and extraordinarily fluid movement. Evolution Bulldogges is the first kennel in the world to send canine samples to
DNA Diagnostics
for VeriSNP testing. VeriSNP is a new technology which generates results of multiple DNA markers simultaneously in a single test. There are currently markers for over 40 different genetic canine diseases. This allows us to properly pair up breedings to consistently result in bulldogges clear of known genetic disease.I believe that the learning process should never stop when you are passionate.  To meet like minded people and to place myself in fertile ground for greater knowledge, I participate heavily in nationwide events as a sanctioned judge with the OBBA judging Olde Bulldogges, and I also completed my apprenticeship in 2010 and judge American Bulldogs for the ABRA.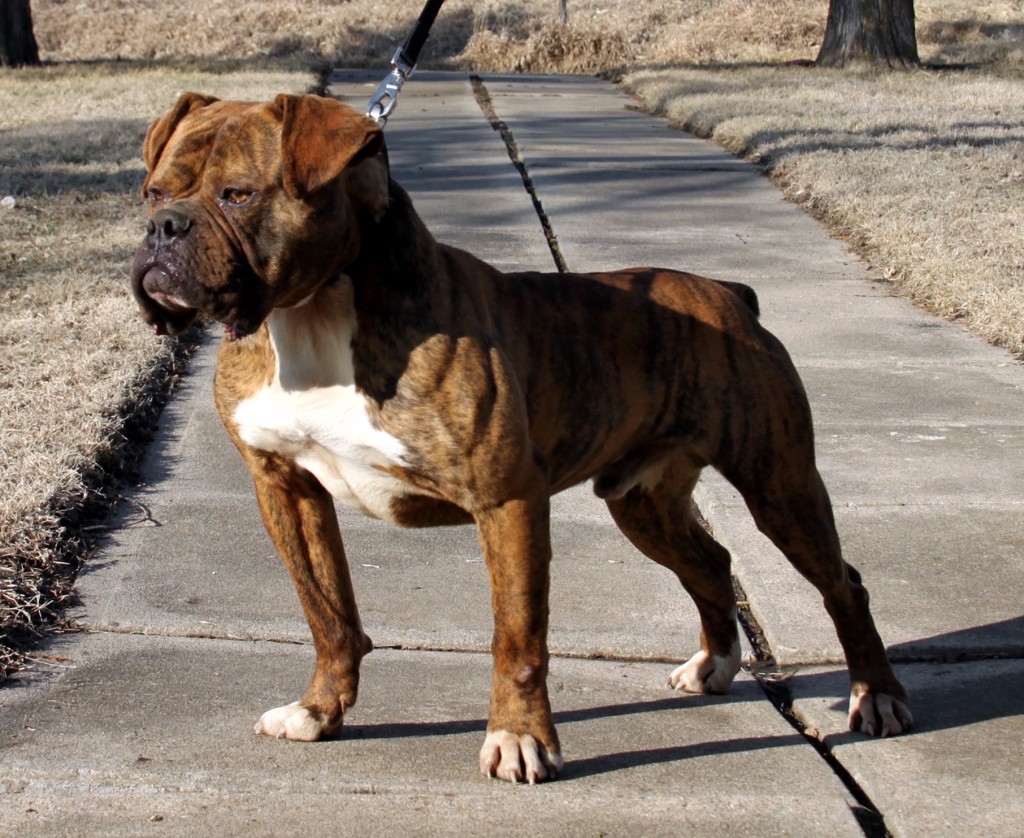 While my main focus is to consistently advance my Olde English Bulldogge breeding program, I am genuinely pleased to help you get just the right Olde English Bulldogge puppy for you.  My 
puppies page
usually has pictures of the Olde English Bulldogge Puppies I have for sale, but occasionally I have other puppies available who are not yet listed.  When you purchase an Olde Bulldogge puppy from Evolution Bulldogges, you can be sure you are getting the highest quality bulldogge puppy money can buy.  If you are interested in learning about my Olde English Bulldogge kennel and breeding program, or purchasing bulldog puppies from me, please feel free to contact me.  I would love to hear from you and will help you in any way I can.
785-851-8888
Improving my Olde Bulldogge kennel is a large part of what I do.
Working to improve the Olde English Bulldogge breed as a whole is a large part of who I am.
My entire purpose as an Olde English Bulldogge breeder is to advance my bulldog kennel as effectively as possible by continuing to produce better bulldogges each generation.  A better Olde English Bulldogge is built through solid breeding principles, following strict guidelines for canine health testing, temperament testing, workability testing, evaluating movement, and proper veterinary evaluation of every structure contained within the entire vessel of the animal both inside and out.  Evolution's Olde English Bulldogges are tested thoroughly prior to being bred and must pass strict guidelines to be considered viable Olde English Bulldogge breeding stock.  One facet of the selection process involved in creating bullet-proof bulldogs includes strenuous work as a test of their heartiness.  Those that fail do not get bred, making each generation more healthy, powerful, and capable.  Evolution Bulldogges is owned and run by a true lifelong bulldog fanatic.
Bulldogs have been a massive fascination for me even from a very early age.  The cartoons which contained bulldogs were by far my favorite and each time a bulldog made an appearance on television, I would become a very excited kiddo.  This fascination grew to the threshold of an obsession, and upon the first introduction to a real bulldog in the flesh, there was a certain degree of disappointment mixed with enthusiasm.  I thought bulldogs were going to be how they were portrayed to children, not this gross exaggeration that bulldogs had become by the time I reached this earth.  The bulldog of old- the courageous, capable, athletic, powerful bulldogs had long since become extinct.  When I found out all the health problems bulldogs had, I become less enamored with the actual breed of dog, and more so interested in the image I held in my mind of what a bulldog should be.  After a very long path, and many interesting experiences with bulldogs through the years, I finally happened upon the Olde English Bulldogge.  I was doing my ritualistic dog classified section scanning in the Topeka Kansas newspaper when I stumbled across an ad for Olde English Bulldogge Puppies For Sale.  They were local, and the name in the olde tyme spelling really peaked my bulldog curiosity, so I called and made an appointment to see what these Olde English bulldogges were all about.  When I arrived, I saw the baddest bulldog bitch I had ever seen in my life!  Zoey owned by Top City Olde English Bulldogge Kennels lept with grace and ease atop her 3 1/2 foot tall dog house as she barked a warning bark upon my approach.  Bulldogs only moved that powerfully and quickly in the cartoons!  I couldn't believe what I was seeing.  With my brand new introduction to the Olde English Bulldogge, I knew I was onto something.
Bulldogs have always consumed my thoughts as long as I can remember, and after 37 years of life, bulldogs are certainly my life's passion.  I can't image a world without breeding and owning amazing hearty, athletic Olde English Bulldogges.  A steady focus on being the world's greatest bulldog breeder is a lifestyle here at Evolution Bulldogges.
Evolution Bulldogges is a clean, professional kennel producing exceptionally high quality Olde English Bulldogge puppies, in north eastern Kansas. I encourage you to come visit us in the heart of the United States, see all of my bulldogs, and pick up your new puppy when it is seven weeks or older.
Take a look at my For Sale page to see what Olde English Bulldogge puppies I have for sale!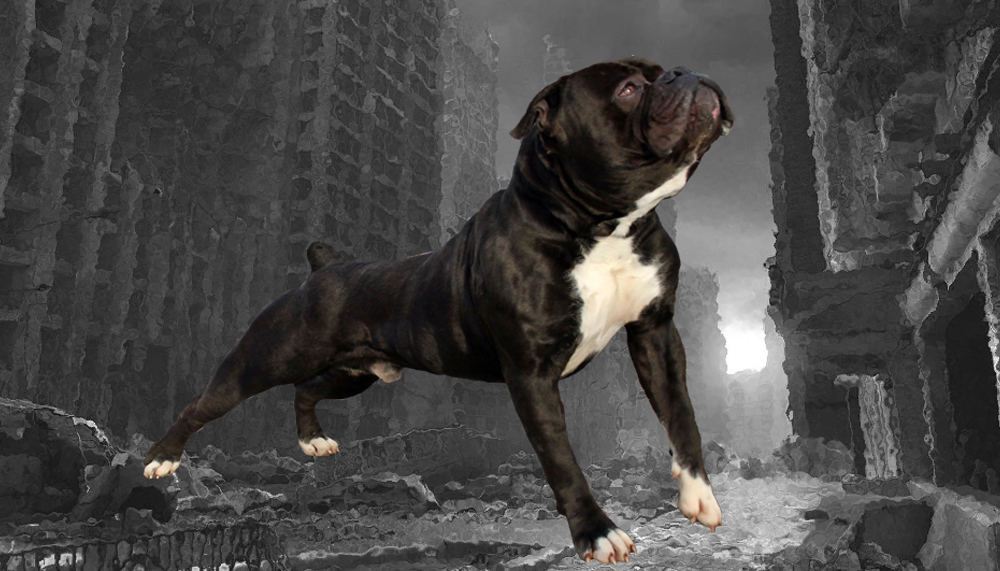 Evolution Bulldogges are bred for health, temperament, and amazing looks.  I do offer safe shipping worldwide, but you are always welcome to come pick your puppy up in person at my place and tour the kennels.  You can see the care that goes into my passion and view four generations of bulldogs all at one place!
All Evolution Olde English Bulldogges are backed with a lifetime health guarantee!
General Guarantee Guidelines:
1. In the event of the death or life altering illness of your Olde english bulldogge puppy within 2 years from its birth due to genetics, the Seller shall replace the pet with another of equivalent value or kennel credit for 100% of the original purchase price. The puppy/dog being replaced, if live, must be returned to Evolution Bulldogges at the buyers expense to get 100% kennel credit. The buyer agrees to use Evolution's name as the prefix to the registered name of the bulldogge.
2.The buyer has five (5) business days after purchase to have their Olde English Bulldogge checked by a licensed veterinarian. If a licensed veterinarian finds the puppy to have a life threatening disease or to have a serious physical condition other than a bacterial infection such as but not limited to coccidia or giardia or in need of a general worming, which is easily treated, and is found unfit for sale by a licensed veterinarian the buyer has 14 days from purchase date to return puppy for a full kennel credit/replacement. No puppy will be replaced in the case of Parvo virus infection/death.
3. In the event of the death/life altering illness of the olde english bulldogge, due to genetics, after 2 years of birth, the Seller shall issue a kennel credit in the amount of fifty percent (50%) of the original cost towards the purchase of a replacement Olde English Bulldogge.
4. The Buyer is responsible for the daily health care and maintenance of the Bulldogge, including all immunizations and examinations recommended after purchase, as well as providing necessary medication and follow-up treatments from veterinarian visits.
4.a. Your Olde Englsih Bulldogge puppy is guaranteed to be of sound temperament, that is, to be neither so shy nor aggressive as to render the bulldog as an unfit companion. This guarantee of temperament is effective only until the bulldogge reaches two (2) year of age, if sold as a puppy, and is contingent upon reasonable proof that any defect in temperament is not the result of lack of proper care and training on the part of the buyer.
The buyer agrees that the Olde English Bulldogge puppy/dog purchased will undergo a minimum basic obedience class. Non adherence to this portion of the agreement will void guarantee on temperament/behavior basis.
5. The value of the Olde English Bulldogge for the purpose of this guarantee is solely the original purchase price, not including shipping, and does not include any additional costs declared by the Buyer.
6. In the event this guarantee is exercised, the registration papers must be returned to the Seller.
Death of Bulldogge due to accident
7. In the event of the death of the pet due to accident, the Seller will issue a kennel credit in the amount of twenty five percent (25%) of the original price toward the purchase price of a replacement pet of equivalent value.
8. In the event of the death of the olde english bulldogge due to accident, a death certificate from a licensed veterinarian must be presented to the Seller within forty eight (48) hours of the accident.
9. The value of the puppy for the purpose of this guarantee is solely the original purchase price, and does not include any additional prices declared by the Buyer or shipping.
10. In the event of resell, Evolution Bulldogges has absolute first right of refusal to repurchase any bulldogge at a price no greater than the original purchase price minus shipping.
Pet Lost or Stolen:
11. In the event that the Olde English Bulldogge is lost or stolen, the Seller will issue a kennel credit in the amount of twenty five percent (25%) of the original price towards the purchase price of a replacement pet of equivalent value.
12. In the event that the Olde English Bulldogge is lost or stolen, the Buyer must advertise the lost Bulldogge in a major local newspaper for a period of one week starting twenty four (24) hours after the loss. In addition, the Buyer must notify the police, Humane Society and/or Animal Control of the loss of their bulldog.
13. The value of the pet for the purpose of this guarantee is solely the original purchase price, and does not include any additional prices declared by the Buyer, or shipping charges.
15. In the event of any litigation in connection with this Guarantee, Evolution Bulldogges will be paid reasonable attorney fees by the purchaser. Venue and jurisdiction for litigation arising out of or related to this contract shall lie in the county in which Evolution Bulldogges resides.
Immunizations:
16. In order to maintain the guarantees outlined herein, the Olde English Bulldogge owner must have all annual immunizations done by a licensed veterinarian.
Implied Warranties:
17. The Seller disclaims any and all implied warranties of merchantability and fitness.
Returns:
18. If you can no longer care for your Olde English bulldogge return it to Evolution Bulldogges, Do Not take it to a shelter or rescue we will take it back regardless of age. If the bulldog is being surrendered because it can no longer be cared for there will be no credit given.
19. Dogs or puppies returned for kennel credit will be accompanied by the proper veterinarian documentation including vaccination records.
Limitations Of Guarantee:
20. This guarantee is non-transferable. No replacement will be given if the Bulldogge has been bred. No replacement will be given if the bulldogge is over weight or over exercised. All the above mentioned conditions must be met or all guarantees above mentioned will be void. All laboratory verification must be done by a licensed veterinarian. The owner is responsible for transportation costs to and from the Seller. Seller is not responsible for any veterinarian expenses. No cash refunds. Kennel Credit Only.
21. Registration papers for all registered Olde English bulldogge puppies will be sent by regular mail. If the papers are lost, the purchaser is responsible for the cost of obtaining new papers. However, we will assist you by providing a copy of these papers. It can take up to 2 months to get new registration papers.
22. Agreement represents the total agreement between Evolution Bulldogges and the buyer and no other terms or conditions shall be valid to this sale. I, the undersigned, have read this agreement and agree to its conditions in full. I have read and understand the above. I also understand my responsibilities.
23. No money is ever refunded, a kennel credit will be issued.
24. You will receive a sample bag of Purina Puppy Chow that has been free fed to your Olde English Bulldogge puppy. We REQUIRE the continued use of this food until a year of age because of its nutrition content and dog performance with our particular line of dogs. Free feeding is recommended. NuVet Supplement is also highly suggested, but not required by this guarantee. Other supplements aside from NuVet will void this guarantee.
25. Olde English Bulldogge Puppies sold on spay/neuter contracts must be spayed or neutered by 6 months of age and proof must be submitted to Evolution Bulldogges before registration is relinquished. Puppies sold on spay/neuter will receive limited registration. All Bulldogge puppies are sold on spay/neuter contracts unless otherwise agreed.
26. Any spoken modifications made to this agreement shall be made in writing or such shall not be effective.