Fully committed to building "bullet-proof" bulldogges,
my ideal Olde English Bulldogge is a massive, powerful bulldogge full of courage with a stoic facade that easily gives way to goofy playfulness.
I am building a courageous, physically capable bulldog of olde. Bred for large size, great power, excellent health, structure, and vigor, my ideal bulldogge is bred specifically as a protective home companion and is solid, stable, healthy, and trustworthy. My perfect bulldogge is 20 inches tall, with a 16 inch wide chest, a 26 inch meaty head, thick bone, short dense shiny coat, excellent hips, impeccable health, proper structure, and stable temperament with a fluid gait and great physical ability.This compact, dense monster tips the scales at a solid, lean 110 pounds with text book perfect structure.
The body proportions form a very square bulldogge. 20 inches from ground to withers, 20 inches length of back from base of neck to base of tail. The head is square in proportions as well; with the width being the same as height which is 8 inches. The chest being 16 inches, the head width being 8 inches, the head is half the width of the chest. The muzzle should also be half the width of the head, and the same distance from top of nose to bottom of jaw. Cheeks protruding with large masseter muscles, the length of muzzle is 1/4 the length of head from tip of nose to occiput.
The massive well squared head is firmly set to a thick, slightly arched neck that widens with split up muscle as it pours down into an excessively muscle wrapped frame along a slight roached back with a small tucked waist and thick, ripped up rear end. His shoulders have moderate layback, angulation of stifles set at a deep angle nearing 90 degrees. All four tight compact feet are oriented straight to the front, and the pasterns are high and strong at a 10 degree angle from vertical.
The overall silhouette of the animal is unmistakably bulldog, with an undershot jaw, pendulous flews, powerful stance, and beastly in proportions. This animal will command your attention immediately. Most importantly my bulldogges are extremely hearty and prime specimens of health, vigor, and power.
Breeding great bulldogges has been a life long pursuit for me, and will continue to be so for life. I will always work to improve my line of dogs, evolving my stock each generation. This is not my hobby. This is not something I do for money. This is not what I do on the weekends. It is an every hour of every day, of every year lifestyle for me.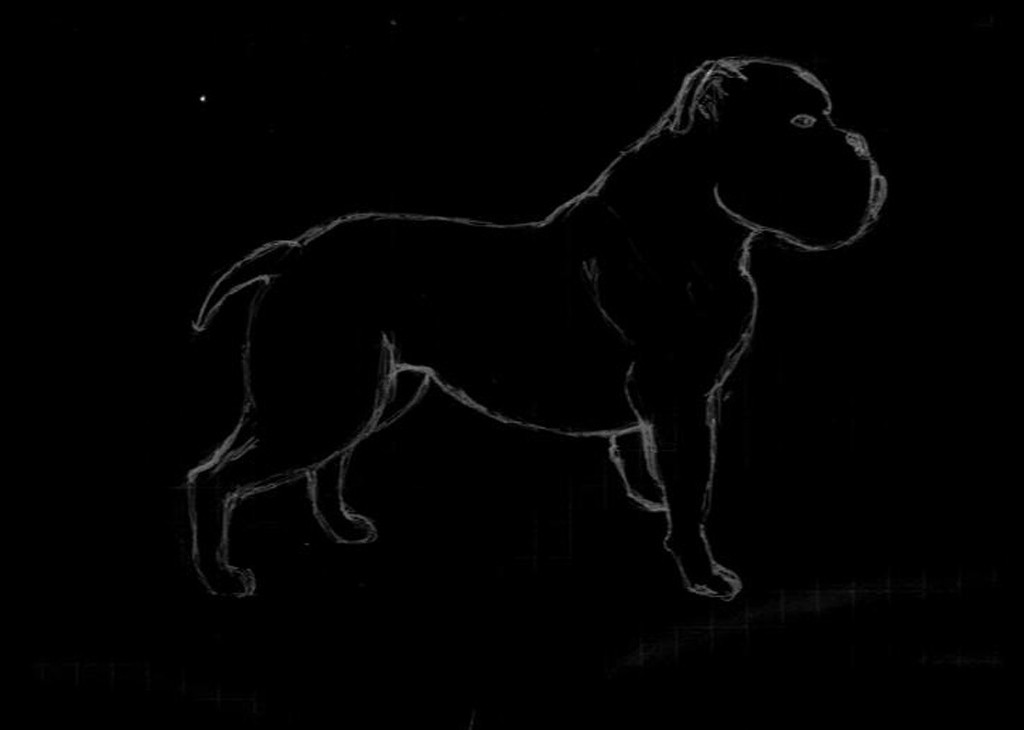 Evolution Bulldogges are ABSOLUTELY NOT English Bulldogs. They are Olde Bulldogges – a recreation of old bull baiting era dogs which are healthy and capable.
Far too many Olde English Bulldogge Breeders breed for the unhealthy, fat, sloppy English Bulldog type which is completely against everything that the Olde stands for. If you see a bulldog that LOOKS like an English Bulldog, that means it is BUILT like an English Bulldog and it will be UNHEALTHY like an English Bulldog.
All Evolution Bulldogge breeding stock must meet high standards – passing health and temperament testing prior to being bred. Selectively breeding for excellence and sticking to the original vision has led to a great degree of success in consistently producing quality specimens to evolve my breeder program generation after generation. Take a look at Evolution Bulldogges current breeding stock in the studs and dams sections, as well as past productions found in the produced page as well.
Looking for more intensity, a larger frame (120-150 pounds), and a natural guardian?
Visit the Alaunt page.